Natural Skincare; An Inside & Outside Job
Cosmetic acupuncture has a long history in Traditional Chinese Medicine (TCM) of treating skin conditions such as acne, rosacea, and signs of aging. Traditionally, TCM has used face & body acupuncture, herbal medicine, topical application of herbs, moxibustion, gua sha, massage, nutrition, and meditation. The modern practice of cosmetic acupuncture also employs natural skincare products and machines such as microcurrent, ultrasound, and galvanic.
If you are in San Diego we recommend treatments at Cinnabar Acupuncture. This allows us to use all our traditional diagnostic methods such as reading the tongue and pulse and to perform treatments. The following is a typical treatment schedule:
Under 35: single treatment as needed
35-49: a series of 5 treatments, 1-2 times per year
50+: a series of 10 treatments, 1-2 times per year
If you are not local, we offer online consultations (via GoogleHangout or Skype) where we educate of proper skincare regimens, nutrition, and lifestyle to help you achieve healthy, vibrant skin. Simply click on the button titled "online consultation".
302 Professional Skincare Products
302 Professional Skincare is a natural product line founded and owned by biochemist Richard Huber. On an expedition to Guatemala, Mr Huber observed a large peasant population living under harsh conditions, with poor nutrition, at a high altitude; the perfect conditions to accelerate aging. The majority were noticeably pre-aged, with the exception of one group who seemed to resist the effects of aging. Mr. Huber noticed that this group ate an avocado porridge every morning. He subsequently discovered that a certain varietal of avocado, when exposed to heat, made the 302 compound bioavailable. Mr. Huber was able to isolate the compound and named it after its molecular weight; significant because of its ability to be absorbed into the skin. Mr. Huber named his entire product line after the avocado molecule, but the active is an ingredient in only 5 of them (4 of which are listed below).
Some general notes about the line: It is available through professionals only and prices may not be listed online. Most products are available in Rx, which means they are completely free of essential oils (important for those with inflamed or sensitive skin). Some products are available in Drops (oil-based) or Serum (lighter, water-based) forms.
[youtube id="On3bUliZzbs" width="600″ height="350″ autoplay="no" api_params="" class=""]
The 302 compound is extracted from organic avocados and has the following benefits:
thickens the epidermis (the epidermis weakens with age, chronic inflammation, and excess exfoliation)
calms inflammation (excellent for rosacea)
softens the skin
increases the energy in your skin cells (makes your skin glow)
regulates sebaceous activity
softens scar tissue
Contraindicated with use of acids and benzoyl peroxide. These ingredients exfoliate while 302 compound builds the epidermis. Used together the skin is asked to do two opposite things at once which can cause inflammation.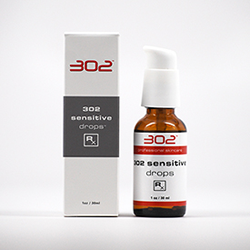 302 Sensitive Drops Rx
Calms Inflammation
Ideal for rosacea, sensitive, or acneic skin.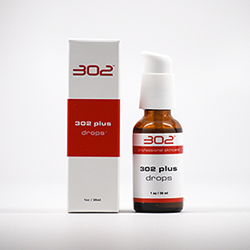 302 Plus Drops/Serum
Stimulating Complex
Ideal for dull, inactive skin. Also contains Vitamin C, rice peptides, and niacinamide.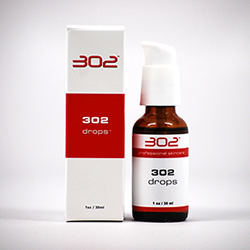 302 Drops/Serum
Full Strength
Maximum dosage of 302 compound.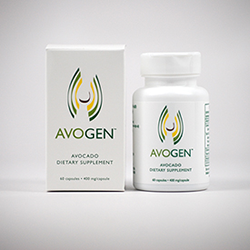 Avogen
Internal Supplement
Daily dose of rejuvenation.
Vitamin A (retinol, retinoic acid, retinyl palmitate, etc.) is a tricky ingredient that both provides numerous benefits and potential side effects. It requires care and observation in order to come to the right dose for the individual where benefits are maximized while avoiding side effects. Vitamin A is excellent for almost every skin condition except sensitive. Benefits of Vitamin A include:
Increase vascularization
Increases cell turnover
Weeds defective cells
Improves skin thickness and resilience
Provides visible blemish reduction
Signs of excessive Vitamin A:
Dryness
Flaking
Redness
Little red bumps
Contraindicated during pregnancy and breastfeeding.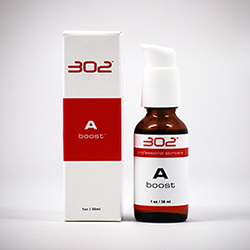 A-Boost
Gentle & Hydrating
Preferred form for anti-aging and sensitive skin.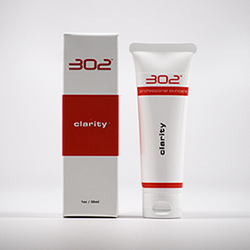 Clarity
Maximum Dose
Ideal for more severe cases of acne, dark spots (hyperpigmentation), and deep wrinkles. Aso great for spot treatmet of acne and dark spots.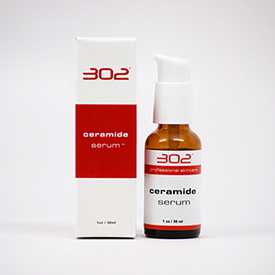 Ceramide Serum
Smoothing Complex
Lower doses of Vitamins A & C, combined with powerful rice peptides and ceramides. Ideal for rough or aged skin.
Vitamin C is a gentle yet powerful antioxidant with many skin benefits, It fits easily into almost any skincare regimen. Vitamin C:
Protects against sun damage
Thickens the dermis
Brightens the skin
Regulates pigmentation
Stimulates collagen
302 Skincare uses a lipid-based Vitamin C called tetrahexydecyl ascorbate (THDCA) or BV-OSC. It does not oxidize (i.e. turn brown) as L-ascorbic acid does, it has a 5 year shelf-life, and remains active on the skin for 48 hours (meaning you only need apply it every other night).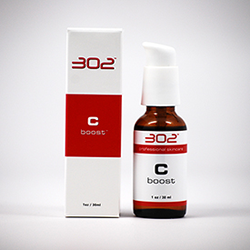 C-Boost
Prevention
Lower concentration of Vitamin C ideal for prevention of sun damage.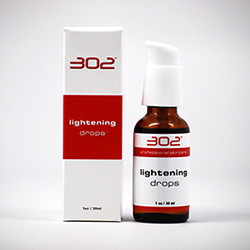 Lightening Drops
Maximum Dose
Preferred for treating dark spots (hyperpigmentation), thinning or loose skin, and wrinkles.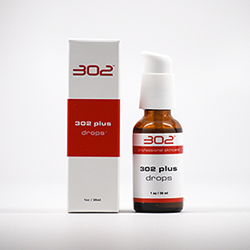 302 Plus Drops/Serum
Stimulating Complex
Ideal for dull, inactive skin. Also contains 302 compound, rice peptides, and niacinamide.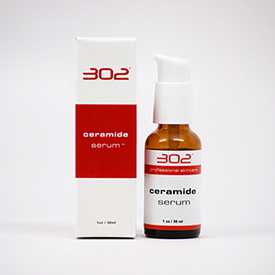 Ceramide Serum
Smoothing Complex
Lower doses of Vitamins A & C, combined with powerful rice peptides and ceramides. Ideal for rough or aged skin.
Peptides are proteins (chains of amino acids) that have a softening and smoothing effect on the skin. They are a vital component in any antiaging regimen.
Excessive use of peptides can cause temporary tiny white bumps (white heads).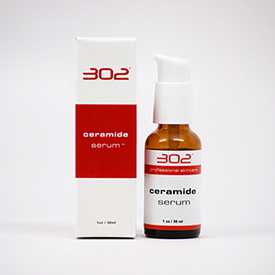 Ceramide Serum
Smoothing Complex
Lower doses of Vitamins A & C, combined with powerful rice peptides and ceramides. Ideal for rough or aged skin.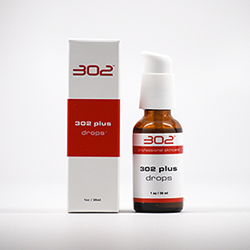 302 Plus Drops/Serum
Stimulatinng Complex
Ideal of dull, inactive skin. Contains Vitamin C, 302 compound, rice peptides, and niacinamide.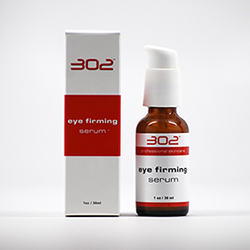 Eye Firming Serum
Stimulating Eye Serum
Excellent for dark circles, fine lines. Contains niacinamide and rice peptides.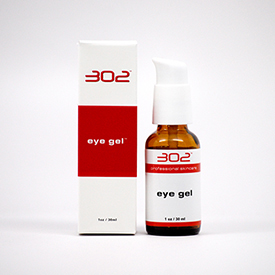 Eye Gel
Smoothing Eye Gel
Excellent for puffiness and fine lines. Contains rice peptides.
Special Treatment Products
These products address special skin conditions: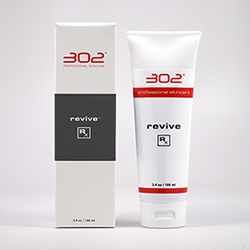 Revive Rx
Antibacterial & Anti-Inflammatory Gel
Excellent for any inflammatory condition including acne, rosacea, and shingles lesions. Used to replace benzoyl peroxide.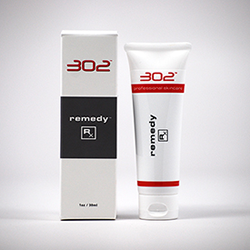 Remedy Rx
Healing
Zinc oxide ointment used to heal burns, skin eruptions, and irritation. A must for acne and rosacea.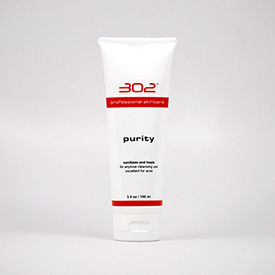 Purity
Purell for Your Face
Powerful antibacterial. Use during workouts/yoga/sports to prevent breakouts.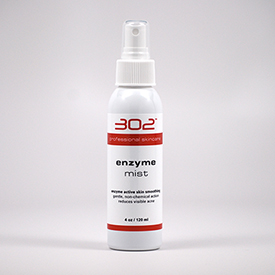 Enzyme Mist/Mask
Gentle Exfoliation
Bromelain enzyme from pineapple acts to gently remove dead skin cells.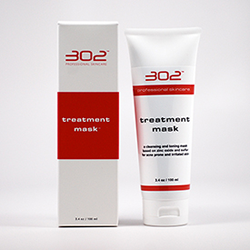 Treatment Mask
Calming & Antibacterial
Excellent for acne and rosacea. Contains zinc, calcium, clay, and sulfur.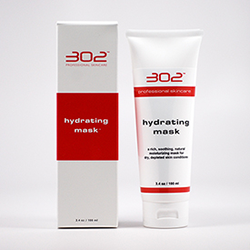 Hydrating Mask
Nourishing
Leave on overnight for deep hydration of dry skin.
302 Skincare cleansers do not contain irritants commonly found in cleansers such as sulfonates, betaines, or phenoxyethanol.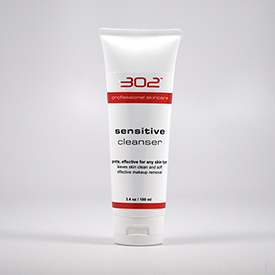 Sensitive Cleanser
Balanced Cleanser
Contains zinc oxide to calm irritation.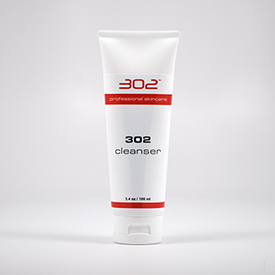 302 Cleanser
Hydrating Cleanser
Contains hydrating oils.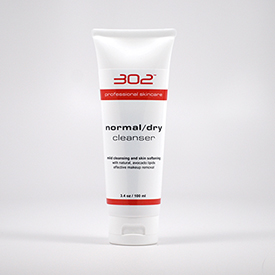 Normal/Dry Cleanser
Super Hydrating Cleanser
Contains avocado lipids to soften and hydrate the skin.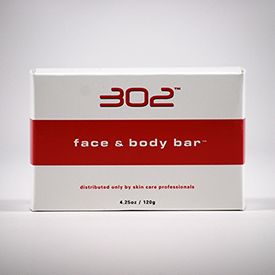 Face & Body Bar
Antibacterial & Antifungal
Excellent for acne and as a body cleanser.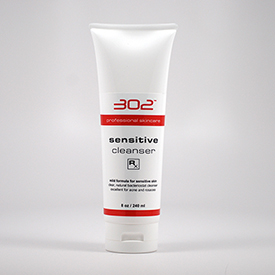 Sensitive Cleanser Rx
Sensitive Skin
Contains zinc oxide and no hydrating or essential oils. Excellent for rosacea and inflamed acne.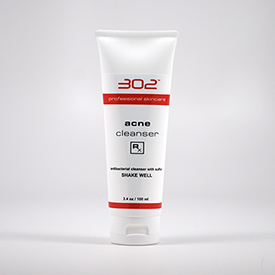 Acne Cleanser Rx
Acne Treatment
Contains zinc oxide and sulfur.
302 Moisturizers are noncomedogenic (don't clog pores) and do not create dependency. Use them as needed to keep your skin balanced.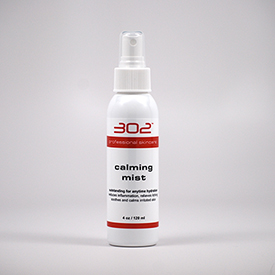 Calming Mist
Hydrating Mist
Soothing, hydrating toner. Apply prior to serums, moisturizers, and sunscreens. Contains green tea.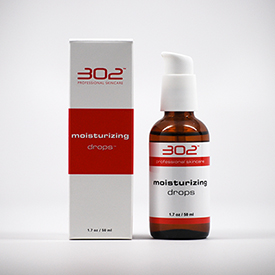 Moisturizing Drops
Dewy Glow
Jojoba, refined avocado, and refined coconut oils for the perfect hydrating oil. The Rx version is perfect of raw, irritated skin as in rosacea.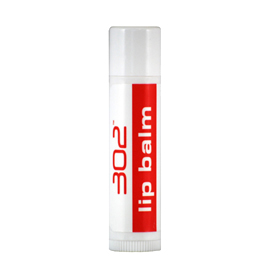 Lip Balm
Lip Hydration
Possibly the best lip balm ever created.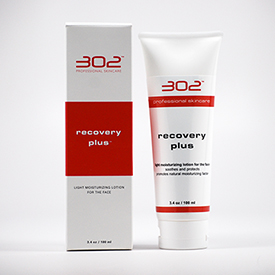 Recovery Plus
Light Hydration
For normal to oily skin.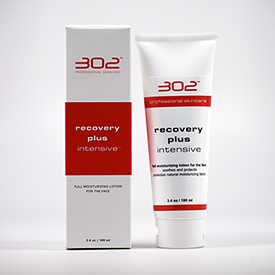 Recovery Plus; Intensive
Normal to Dry
Lotion absorbs easily leaving a satin finish.
Recovery; Day/Night
Intense Hydration
Thick cream for dry weather and rough skin. Dr. Judith calls it "meat tenderizer" because of its softening effects.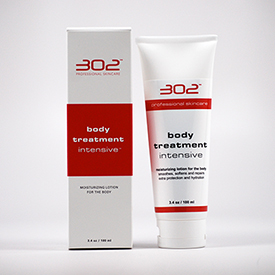 Body Treatment; Intensive
Body Hydration
Softens and hydrates the body.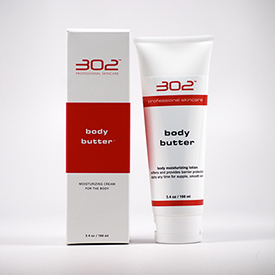 Body Butter
Intense Body Lotion
Thicker lotion for hands, feet, and dry skin.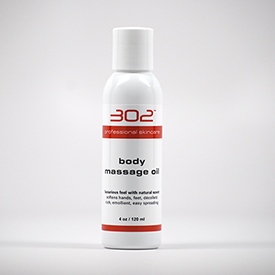 Body Massage Oil
Silky Body Oil
Use after the bath to deeply hydrate the body. Excellent after exfoliation or during/post pregnancy on the abdomen.
Sunscreens protect against excessive sun exposure that cause premature aging and some skin cancers. However, chemical sunscreens are absorbed into the body where they eventually must be processed by the liver and kidneys, potentially causing toxicity, hormone imbalance, and even contributing to cancer. Mineral sunscreens sit on the surface of the skin and reflect the sun's rays back. Only choose sunscreens containing zinc oxide and titanium dioxide under active ingredients. Mineral sunscreens do not require you to apply 30 minutes prior to sun exposure as you do not have to wait for a chemical reaction; they work instantly. 302 Skincare sunscreens contain only mineral sunscreens and no other actives or moisturizers making them very safe and versatile.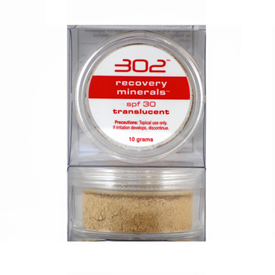 Recovery Minerals: Translucent
SPF 30 Powder
Sheer mineral powder sunscreen. Excellent for acneic and oily skin types.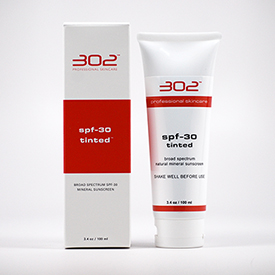 SPF 30; Tinted
Sunscreen Lotion
Everyday sunscreen lotion.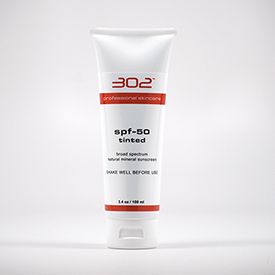 SPF 50; Tinted
Intense Protection
Thick sunscreen for more prolonged exposure.