ph 305.590.8474 | email AndrewsAcupuncture@gmail.com
Cinnabar Acupuncture & Tea Co.
Dr. Lia Andrews, DAOM, L.Ac. founded Cinnabar Acupuncture, in San Diego, CA, with her mother, and fellow acupuncturist, Dr. Judith Andrews, DAOM, L.Ac. They pride themselves on their gentle needling style and innovative treatments. Judith and Lia have traveled around the U.S., China, Thailand, and Brazil and studied with numerous masters, honing their craft. They created a special place in which to nurture their patients into greater states of health.
Cinnabar is very important to Chinese culture, medicine, and qigong. For example Cinnabar Field is the energy center located in the lower abdomen used in qigong, taichi, and Chinese medicine. The ancient Chinese Daoists were fascinated with the mineral. In its natural state it was deep red and dry (pure Yang). When heated, it became silver and liquid (pure Yin). Cinnabar became a symbol of transformation and healing.
Read below for specific treatments available at Cinnabar:

We have put together our most intensive package yet! Five weeks of inner and outer work to help you transform your body. This package includes the following:
body endermologie (5 weekly treatments)
detox body wrap (2 treatments)
weight loss acupuncture (5 weekly treatments)
ear magnets for appetite control (5 weekly treatments)
dietary recommendations
Regular Cost: $1,125
Package Price: $695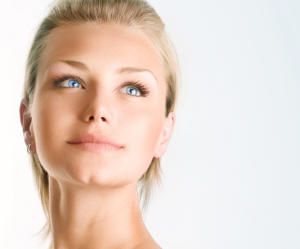 A natural alternative for those who are afraid of injectables or want to enhance their results. This 5 week program is clean, sustainable beauty that addresses the internal and external causes of aging:
facial endermologie (5 weekly treatments)
facial ultrasound (5 weekly treatments)
galvanic facial toning (5 weekly treatments)
longevity acupuncture (5 weekly treatments)
skincare consultation
dietary recommendations
Regular Cost: $800
Package Price: $595
Experience effectiveness without the pain. We use tiny needles; 36-40 gauge disposable needles to be exact. They would better be described as filaments. Our needling style makes our treatments deeply relaxing. You will leave with a sense of euphoria similar to what you feel after a great massage.We are also herbalists. We maintain a raw herb pharmacy and carry patent pill and tincture formulas. Chinese herbs will exponentially increase the effectiveness of your treatments.We provide all of the Traditional Chinese Medicine (TCM) modalities such as both Chinese and Japanese-style acupuncture, Chinese herbal medicine, cupping, tui na (massage), moxibustion, gua sha, and medical qi gong. Due  to the fact that acupuncture treatments work by balancing the body's own energy, they can be used to aid in the healing of virtually any ailment. We are general practitioners specializing in hormonal balancing (including fertility), dermatology, stress relief, and pain relief (injuries).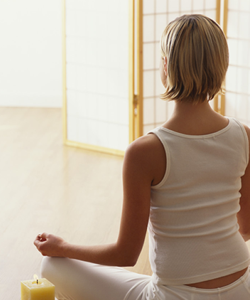 Stress Relief Acupuncture
30 min
Signature 5 needle technique for stress and insomnia relief!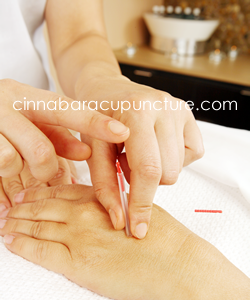 Standard Acupuncture
60 min
Appropriate for most health conditions.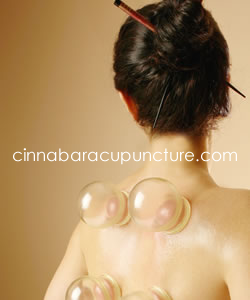 Ultimate Acupuncture
90 min
Front and back treatment for complex or longstanding issues.
Cosmetic acupuncture, or facial rejuvenation, has been used for millennia by the Chinese elite to maintain youthfulness and vitality from the inside out. Traditional techniques include face & body acupuncture, internal & topical herbs, nutrition, and massage. At Cinnabar we incorporate modern machines and skincare products in order to provide incredible results.The following is a typical treatment schedule:Under 35: single treatment as needed35-49: a series of 5 treatments, 1-2 times per year50+: a series of 10 treatments, 1-2 times per year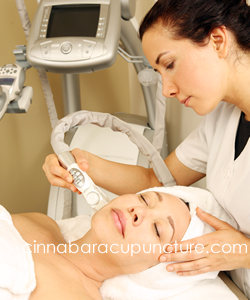 Endermolift (Face Endermologie)
Toning & Detox
Mechanized lymphatic drainage for glowing skin.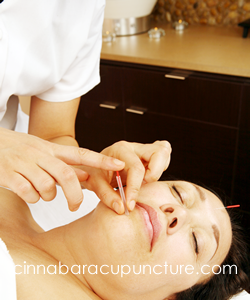 Cosmetic Acupuncture
Total Rejuvenation
Targeted antiaging.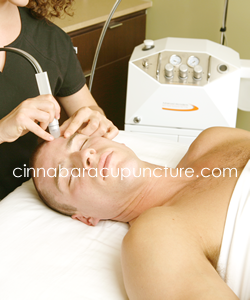 Skin Detox
Clarifying
The remedy for congested skin.
These treatments get to the root of stubborn weight gain and increase health as you drop inches. We recommend body endermologie (lipomassage) for detoxification of the lymphatic system, increased microcirculation, and skin rejuvenation of the body. The addition of the slimming wrap facilitates fat loss and reduction of the appearance of cellulite.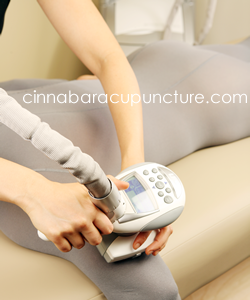 Lipomassage (Body Endermologie)
Lymphatic Drainage
Tones, slims, and detoxifies.
Slimming Bodywrap & Lipomassage Package
Slimming Results
Perfect for inch loss!
These packages are targeted for working through imbalances in the body.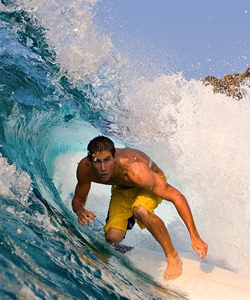 Acupuncture Series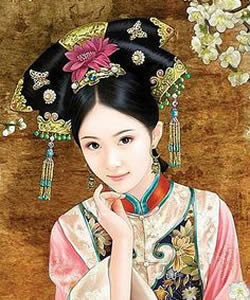 Geisha Glow